W E L C O M E
Hello, my name is Robbie Robertson, I am the pastor here at Trinity Baptist Church in Williamston, South Carolina. I want to personally thank you for taking a moment of your time to read this welcome note. We also appreciate you taking the time to view our web page and find out more about our church through this site. One of our goals is to encourage you in your life as a Christian. We also welcome the opportunity to introduce people to the Lord Jesus Christ who may not have had the privilege yet to meet Him as their Lord and Savior.
If you are searching for a church home, we'd like you to know that there's a special place at Trinity just for you. We consider ourselves to be a warm, friendly, caring, family-oriented, KJV Bible-believing local church that is reaching out to the community with the Gospel of the Lord Jesus Christ. Trinity Baptist Church has been in this community since 1963 and stands ready to minister to its people. We believe that Jesus Christ has the answers for all of life's problems. If you are currently searching for a local church, or if you are just passing through or planning to move to Anderson county, please accept my invitation on behalf of all our people here at Trinity to attend our services. We look forward to seeing you soon!
We believe in one God, the Father, the Almighty, maker of heaven and earth, of all that is, seen and unseen.
• The verbal Inspiration of the Bible. (KJV)
• The Virgin Birth of our Lord and Savior, Jesus Christ.
• Jesus came to save sinners from Hell.
• The shedding of the Blood of Jesus Christ for payment of the world's sin.
• The Death, Burial, and Bodily Resurrection of Christ.
• Sinners must be saved to go to Heaven.
• Salvation is by grace through faith and not of works.
• Two scriptural ordinances: Baptism by immersion and the Lord's Supper.
• Giving of the Gospel through world missions is God's Desire.
• Jesus is coming soon to take all Saved Believers to Heaven.
How to accept the free gift of Salvation…
I. You are a Sinner:
"For all have sinned, and come short of the glory of God." Romans 3:23
II. You owe a sin debt:
"For the wages of sin is death, but the gift of God is eternal life through Jesus Christ our Lord."
Romans 6:23
III. Christ died for your sin debt:
"But God commendeth His love toward us, in that while we were yet sinners, Christ died for us."
Romans 5:8
IV. Repent and receive Jesus as your Lord and Savior
"That if thou shalt confess with thy mouth the Lord Jesus, and shalt believe in thine heart that God hath raised him from the dead, thou shalt be saved."
Join Us On The Radio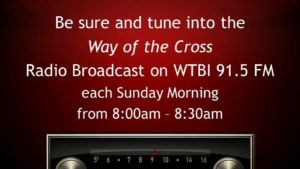 We offer a variety of opportunities for everyone to worship the Lord. There are weekly opportunities for children, youth, ladies, men, and seniors to worship together. Adult Choir members practice on Sunday afternoons at 4:45. Everyone is invited to participate in the Adult Choir. We also offer several opportunities for outreach through our visitation ministry. Each one of our ministries such as Youth, Seniors, Men's and Ladies classes enjoy many activities throughout the year which centers around sweet Christian fellowship. These ministries are highlighted in the slide show to the left of this window.
Click on the links below to visit sites that TBC partners with
Christian Law Association
Tabernacle Baptist Church
Our God is a God of abundance and He loves to give. He sacrificed willingly on the cross and then invited us into fullness of life. As His children, we are called to imitate Him. Our generosity in giving is a demonstration of God's character and a response to what He has done for us.
BUILDING FUND

Tithes and Offerings
General Fund