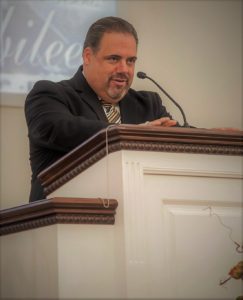 Robbie Robertson
Pastor Robbie Robertson's Testimony,
I was gloriously saved as a five year old boy in November of 1973 at the Valley Baptist Church in Craigsville, Va. Dolphis Price was preaching that night of Revival and I will never forget the conviction that overwhelmed my soul as I realized my need for "Great Salvation."
My father had just graduated from Tabernacle Baptist Bible College and soon after I was saved we moved to Harrisonburg, Va. My father organized the Victory Baptist Church in 1974. I thank the Lord for bringing me into this world and giving me two of the most Godly parents He could have given me. Being raised a "preacher's kid," my whole life has been centered around the Church, the Bible and the things of the Lord, for this I give God all the glory, honor and praise for all that He has done in my life. In 1984 while at summer camp, I surrendered my life to the Lord for His service.
I graduated from Victory Baptist High School in 1986. While in high school I was able to take several college level Bible courses through A.C.E. In 1987 I moved to Greenville, SC and attended Tabernacle Baptist Bible College. I worked in the financial industry from 1987-1999.
When I surrendered my life in 1984, I knew God was calling me to preach but I was not ready to submit to the call of God on my life. I made myself busy in my financial career and in my marriage. God has given me a wonderful wife. Cynthia Lynn Quesenberry and I were married on June 24, 1988. God has also blessed us with wonderful children; James & his wife AnnMarie, Phillip, Jonathan & his wife Alli, and our adopted daughter, Bailey Grace. For several years I continued to offer up "peace offerings" to the Lord. I made myself busy in the church, singing, teaching Sunday School and holding the position of a deacon, all the while, running from my call to preach.
On October 1, 1997, I surrendered to the call of God on my life to the Lord to preach His word. At that time we were members of Freedom Baptist Church where we attended for six years until 1999 when God called us to pastor the Wrenn Memorial Baptist Church in Greenville. We served there as Pastor for six years and six months.
God had begun to deal with my heart about a year before I resigned that I had accomplished what He intended for me to accomplish there and we felt that God was calling us to move on to a new ministry. At that time I kind of felt like Abraham. God said move but He did not say where. We prayed and sought God's will and came really close to moving to Jacksonville, Florida. However, I received a call from Pastor Norris here at Trinity, and he had been praying that God would send them an Assistant to be in place to take the church after his retirement. We served as Assistant Pastor from June, 2006, until December, 2007, and accepted the call to Pastor on January 1, 2008. God has greatly blessed this church in its 50 plus years of existence and we pray that God will continue to bless in the years to come.
For everything that we have been privileged to do in the ministry, we say, "To God Be the Glory!" Until Jesus calls us home, we plan to continue to trust Him and preach Jesus. A great preacher once said, "Where God guides, He provides". Thank you for taking the time to visit our web-site and if you are ever in the Williamston area, come and visit us. May God richly bless you is our prayer.
In His Work,
Robbie Robertson
Psalm 19:14